How To Involve Kids in Training New Dog
By Paige Johnson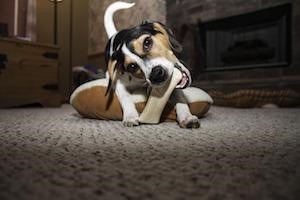 If you've recently adopted a new dog, you'll want to preface agility training with instilling the basics. It's important to start with everyday commands in order to help your new pup learn to identify you and your family as the leaders, as well as to make more advanced training later on an easier process. However, dog training can be tricky for kids, who tend to focus more on the "new best friend" facet rather than the importance of an obedient pet. The key is to get them involved in training from the beginning.
Involving kids in training a new dog with positive rewards is one of the best ways to get them to bond quickly. So, when you introduce a new dog to your family, incorporate them into training their new pet as often as possible. It is just important that your dog obeys your kids as it is for your kids to understand they should respect and care for the dog by learning to train it to obey them. Getting your kids and the new dog to understand their relationship with one another is a great step toward ensuring the dog is happy and healthy in your home.
Rely on positive rewards
Just as you want to stress positive behavior to your kids, you want to stress positive behavior for your dog. Dogs can become confused when they hear "no" all of the time, so teaching them correct behaviors via rewards helps them to adjust to your home more quickly and successfully. Positive reinforcement is one of the best ways to get the dog to repeat desired behaviors and it is an easy way to get kids involved in training because they enjoy rewarding the dog with treats and praise.
It is helpful to teach your kids the correct way to use positive reinforcement to train your dog. The last thing you want is your kids giving their new dog treats when he does not deserve them. Focus on teaching your kids to give a reward immediately after the dog acts appropriately. One of the simplest commands kids can teach a dog is to sit. Be sure your kids have treats in their pockets so they can reward the dog as soon as he sits rather than when he stands back up or lies down on the floor.
Approach training as tricks and games
While they may think that they cannot train a dog because they are not adults, your kids will be able to teach a dog to obey commands by teaching him common tricks. Indeed, kids will love it when their new dog obeys their commands to do tricks. For example, kids easily can teach their new dog to shake hands and roll over by using positive reinforcement. The key is for the kids to guide the dog through the desired actions and use a treat to reinforce them at each stage. Sometimes, having a child raise your dog's paw while saying, "Shake," is the best way to start teaching the command for the trick. Giving a treat each time the dog raises its paw is a powerful positive reinforcement; then, as the dog progresses to raising his paw without your child lifting it up, he should give the dog a treat as soon as the paw is in the air.
Your child also can teach the dog to come when he calls his name by using treats for positive reinforcement. Begin by having your child call the dog's name from a few feet away and gradually increase the distance until the child is in the next room. Make it an even more fun game by having the child hide while calling the dog's name to see if the dog can find the child. Each time the dog listens to the child and responds by going to him, the child should give the dog a treat.
Be consistent with commands and positive reinforcement
Training your new dog will be a priority for your family for the first few months that he is in your home. But, when the time comes to hire a dog walker or a dog boarder, you want to ensure that you specifically explain which commands you use with your dog and how you use positive reinforcement with treats. The more consistent your family members and caregivers are with training and rewarding your new dog, the more successful your dog will be at achieving desired behaviors. You also may want to have your children demonstrate some commands and positive reinforcement practices with your dog walker or dog sitter because it will help them gain a sense of responsibility and pride when they can show how well they have trained their new dog.
Training a new dog should be a concerted effort made by the entire family. By working together, you will help your dog transition to your home smoothly. You also will help your kids bond more quickly with their new pet by involving them in training the new dog with positive rewards.
Paige Johnson is a self-described fitness "nerd." She possesses a love for strength training. In addition to weight-lifting, she is a yoga enthusiast, avid cyclist, and loves exploring hiking trails with her dogs. She enjoys writing about health and fitness for LearnFit.org.
Image via Pixabay by jameslee